Engagement. Action. Research. Somatics.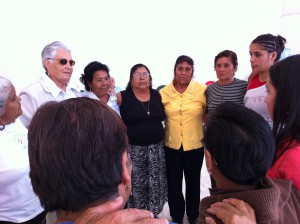 All of my creative work is focused on blurring the edges of many creative disciplines and academic fields. I spend much of my time bridging the disciplines of dance, theater, design, and film both in my professional creative work and as an educator. Throughout my time as an artist, I have become adept in communicating with artists of other disciplines in addition to my ongoing collaborations with them.  My work has gained a reputation of collaboration, first and foremost. In the academic environment I have spent much time collaborating across disciplines in fields such as engineering, psychology, music, theater, art, arts administration, english/poetry, media studies and more. This is true of every endeavor I embark upon whether it is as an artist, academic or educator.
Creativity. Innovation. Collaboration.
The most exciting part of my work is my focus on dance as a socially engaged art form. My interests in this area began with my fascination with how any large event of group consciousness has been labeled a movement (The Women's Rights Movement, the Civil Rights Movement, etc.). I am interested in the idea that they are actually called 'Movements'. Perhaps it is due to the fact that people are moving from one idea towards another, from one accepted mainstream belief to another. Perhaps it is because, more often than not, people are embodying their beliefs and literally 'standing up' for what they believe in. 'Movement' could simply be referring to the actions being taken by people in support or opposition to codified ideals. I am curious about the process of people coming together to share in movement with a purpose, while holding the focus on the individual and the group. Simultaneously, I am fascinated with how Idealogical 'Movements' affect our culture and how movements (physicality in the body) can affect our culture and/or is effected by our culture. I am interested in cultivating dance and movement that can provide a venue or outlet for social change; movement initiating 'Movements'.
As an artist, I have always felt the need to create around issues that live in our society. I have consciously spent much time collaborating with artists that are interested in hard topics such as politics, human rights and gender equality. I chose themes that affect our communities locally, nationally, and globally.  The scholarly and written side of my research has intensified in the past few years. My creative interests and scholarly research have become interdependent. As an artist, choreographer, somatic practitioner and academic, my focus has begun to highlight Dance as a vehicle for Social Change. I have co-authored an article examining movement and protest as image, presented on contact improvisation as conflict resolution and engaged in art installations around the movement of Movements.  As a result, I have taken a nose dive into the depths of the art of protest.  This has informed my work as an educator and an academic.
As I continue to teach, create and engage communities in this area, I am now coming to a more specific place integrating somatics, art making and  social justice.  I am doing research, creating performance work, designing coursework around this idea.  Currently I am dedicated to collecting methods for creating work with a sociopolitical emphasis. I am interested in finding new methods of transforming abstract, theoretical research into experiential, visceral performances.  I would like to continue to explore my tools for approaching sociopolitical work in the creative process.  The questions guiding my specific interests are:
Does a somatic approach to neuromuscular re-patterning have a positive impact on my community?
How do I integrate critical analysis of a topic with the depth of my own somatic, cultured and political body knowledge to inspire physical research in the creative process?
How do I generate dialogue through critical, multi-layered metaphors?
How do I create viscerally impressing experiences that inspire audience members to make their own connections instead of relying on literal representations that lead to heavy-handed preaching?
How does embodied understanding impact the performative space as it pertains to the integrations of theory, physical research and sociopolitical understanding?
I set high standards for my self as an artist and choreographer. I believe that dance can be aesthetically interesting AND can create positive change in my world. It is a tall order I know, but it keeps me on my toes…
See examples below of my work in unpacking white supremacy in the body and dance + protest.
---